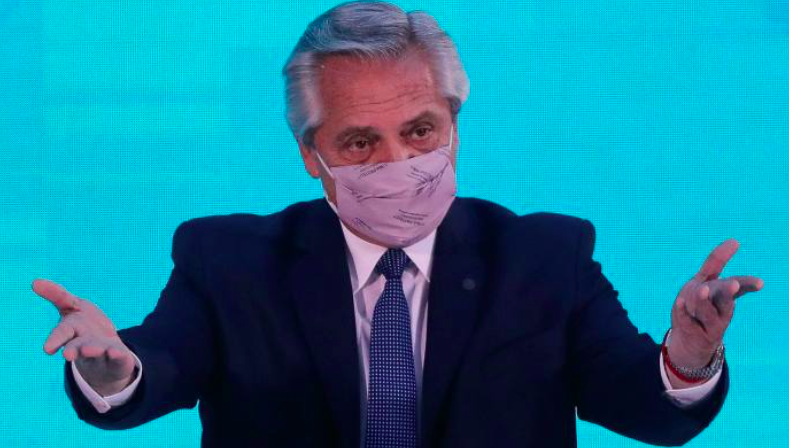 Michael Stott, Latin America editor
Presiding over a country mired in the third year of a deep recession and struggling to renegotiate crushing international debts would normally rule out any aspirations to a bigger international role.
But these are not normal times and Argentina's pragmatic centre-left leader Alberto Fernández is positioning himself as a natural leader for Latin America, a region devastated by coronavirus, beset by serious social and economic problems and short of international heavyweights.
The president spelt out his message in a slick video address to the Davos World Economic Forum last month. The pandemic, he said, was "a wake-up call to build a common home on different foundations".
Burnishing his regional credentials, Fernández has built bridges to the left and the right, visiting the conservative leaders of Chile and Uruguay while feting recent election victories by socialists in Bolivia and Ecuador. This week, Fernández will visit Mexico as a "distinguished speaker" at commemorations of the 200th anniversary of the proclamation of independence. He is the sole Latin American leader invited by the country's famously insular president, Andrés Manuel López Obrador.
This burst of diplomacy is well-timed. The Biden administration is offering a new agenda for Latin America, leaving behind Trump-era pressure on immigration and regime change in Cuba and Venezuela and embracing human rights, environmental protection and the fight against corruption.
But Fernández needs partners. "When you look at the region, there's an absence of leadership," said Tom Long, associate professor in new rising world powers at Warwick university. "Politics is really fragmented . . . and you don't have the normal heavy hitters to lead regional efforts."
This, diplomats and analysts say, is the space the Argentine president hopes to fill.
It was no accident that Fernández was among the first world leaders to congratulate Joe Biden on his election and was the first Latin American leader to have a substantial conversation with the new US president after his inauguration, according to Argentina's ambassador in Washington, Jorge Argüello. The two leaders spoke for 35 minutes and discussed their common admiration for Pope Francis, who is Argentine, and the Catholic values they share, the foreign ministry in Buenos Aires said.
By contrast, Brazil's hard-right leader Jair Bolsonaro and Mexico's López Obrador were both on good terms with Donald Trump at the end of his term and were among the last world leaders to recognise Biden's victory. Bolsonaro and the US president have yet to speak.
That said, the obstacles to Fernández playing a bigger regional role are formidable.
Latin America lacks effective forums for regional co-ordination. While Asean has evolved into a successful regional body in south-east Asia and the African Union plays a key role in that continent, Latin America is littered with the remnants of failed efforts at regional integration.
Michael Shifter, president of the Inter-American Dialogue, a Washington think-tank, believes Buenos Aires could play a role in helping the US broker a diplomatic solution to the Venezuela crisis; the US might also be interested in renewable energy partnerships. But he said: "To the extent that Argentina is mired in its economic crisis, its effectiveness as a US partner on Venezuela, climate and other issues will be limited."
Shannon O'Neil, vice-president at the Council on Foreign Relations in New York, thinks domestic politics may be a problem. "There is an opening for a pragmatic, strategic leader in Latin America but the challenge Alberto Fernández will have is the Argentines," she said. "He might have those international ambitions but Argentina is an increasingly insular country."
One Argentine in particular might prove problematic — former leftist firebrand president Cristina Fernández de Kirchner, now Fernández's vice-president and widely viewed as a power behind the throne. As Moisés Naím, a distinguished fellow at the Carnegie Endowment, put it: "Alberto doesn't come alone. He has baggage."
Then there is the economy. Argentina is still trying to renegotiate $44bn of debt with the IMF, its dollar reserves are running low and a bout of central bank money-printing has boosted inflation, leaving the economy in a parlous state.
Facing problems like these, it is perhaps not surprising that Fernández made frequent references to the Pope in his conversation with Biden. Divine intervention might be a blessing.