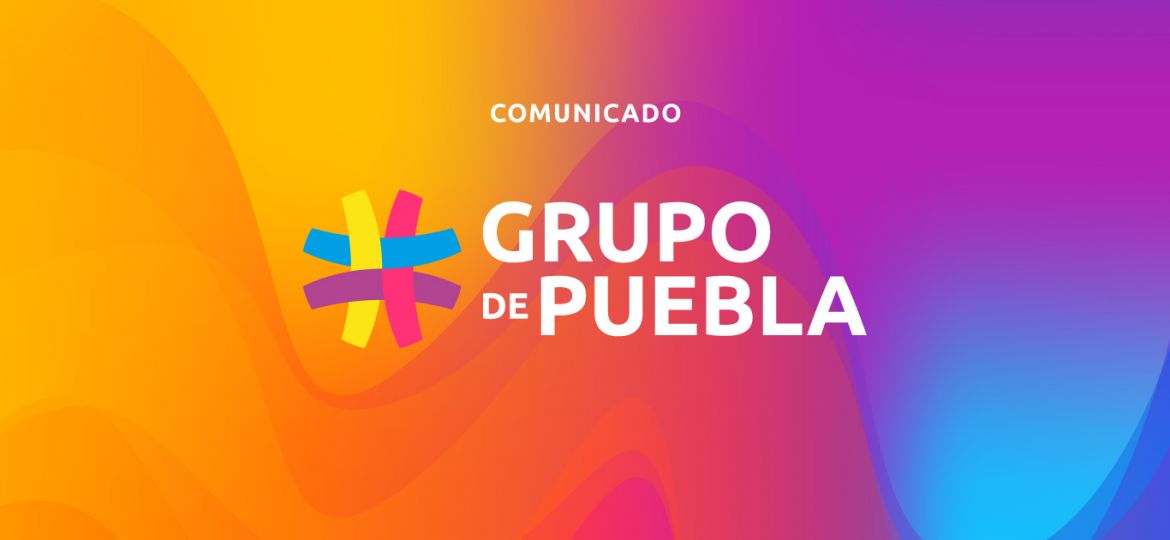 Five ministers currently in office, eight former presidents, two prominent economists will be some of the progressive leaders who will participate on Friday, July 10 on the commemoration of the first year of existence of the Grupo de Puebla. These leaders have confirmed their attendance: Foreign Affairs Ministers María Aránzazu González (Spain) and Felipe Solá (Argentina); Minister of Equality, Irene Montero (Spain); Minister of Women, Gender and Diversity, Elizabeth Gómez Alcorta (Argentina) and Minister of the Environment and Sustainable Development, Juan Cabandié (Argentina). Also, in order to start the dialogue, accomplished economists Mariana Mazzucato and José Antonio Ocampo will do their presentations. They will al meet different progressive leaders from over 17 countries to debate the "Progressive agenda to overcome the Covid-19 pandemic crisis".
Mariana Mazzucato is an Italian American professor of the University College London and the University of Sussex. She is author of the books "The Entrepreneurial State: debunking public vs. private sector myths" and "Value of Everything", among other publications. She is also a consultant for the Italian government, and she is internationally known as on the intellectuals who is rethinking capitalism. Her books have been recommended by Pope Francis as a must read to rethink the future after the Covid-19 pandemic. Recently, on an article from The New York Times called "We socialize bailouts. We should socialize successes, too", Mazzucato invited governments who are struggling against the effects of Coronavirus to socialize the successes of economies, which are shared by private companies only, in order to distribute dividends in the society when the economic cycle is fruitful.
On the other hand, José Antonio Ocampo is a Colombian economist and politician, who is an important reference on his field because of his work with the Economy Nobel Laureate Joseph Stiglitz. He has work on the Ministry of the Treasury and Public Credit and the Ministry of Agriculture. He has also developed and academic career on the Faculty of Economy of the Universidad de los Andes and the National University, both in Colombia, and he has been visiting professor of the universities of Cambridge, Yale and Oxford.
The Grupo de Puebla announced the participation of its founding members: Former presidents José "Pepe" Mujica, Dilma Rousseff, Rafael Correa, Ernesto Samper, Evo Morales, Martin Torrijos, Leonel Fernández and José Luis Rodríguez Zapatero; minister Irene Montero (España); former Foreign Affairs ministers Celso Amorim (Brasil) Guillaume Long (Ecuador) y Hugo Martínez (El Salvador); los ex ministros Aloizio Mercadante (Brasil), Clara López Obregón (Colombia), Daniel Martínez Villamil (Uruguay) and Carlos Ominami (Chile); senators Jorge Taiana (Argentina), José Miguel Insulza and Alejandro Navarro (Chile), Iván Cepeda (Colombia) and Esperanza Martínez (Paraguay); Chilean former presidential candidate Marco Enríquez- Ominami; Coordinator of the Parliamentary Group of Morena and President of the Board of
Policital Coordination in the House of Deputies, Mario Delgado (México); former President of the General Assembly of Ecuador Gabriela Rivadeneira; and the lawyer Carol Proner (Brasil), among others.
David Adler (United States), Progressive International General Coordinator will also be in attendance, as well as the Argentinian Minister of the Environment Juan Cabandié.
En la conmemoración, también participarán parte de los integrantes del Consejo Latinoamericano de Justicia y Democracia (CLAJUD), plataforma jurídica del Grupo de Puebla. Los juristas que estarán en la actividad son la ministra Elizabeth Gomez Alcorta, el académico Damián Loreti (Argentina) y el Doctor en Derecho Penal Juarez Tavares (Brasil), entre otros.
Daniella Cicardini (Chile) and Karina Sosa (El Salvador), among other members from the Iberoamerican Parliamentary Progressive Group from the Grupo de Puebla also confirmed their attendance.
The moderator of the dialogue will be Alicia Bárcenas, current Executive Secretary of the Economic Commission for Latin America and the Caribbean (ECLAC).
The anniversary meeting of the Grupo de Puebla will take place at the following times:
11:00 El Salvador
12:00 Colombia, Ecuador, Mexico, Peru and Panama
13:00 Bolivia, Chile, Paraguay and the Dominican Republic
14:00 Argentina, Brazil and Uruguay
19:00 Spain
*The event can be followed through streaming on the social media accounts of the Grupo de Puebla.
Twitter: @ProgresaLatam
Facebook: https://www.facebook.com/progresalatam/
Instagram: @progresalatam
We appreciate if you can help us share this information. Best regards.