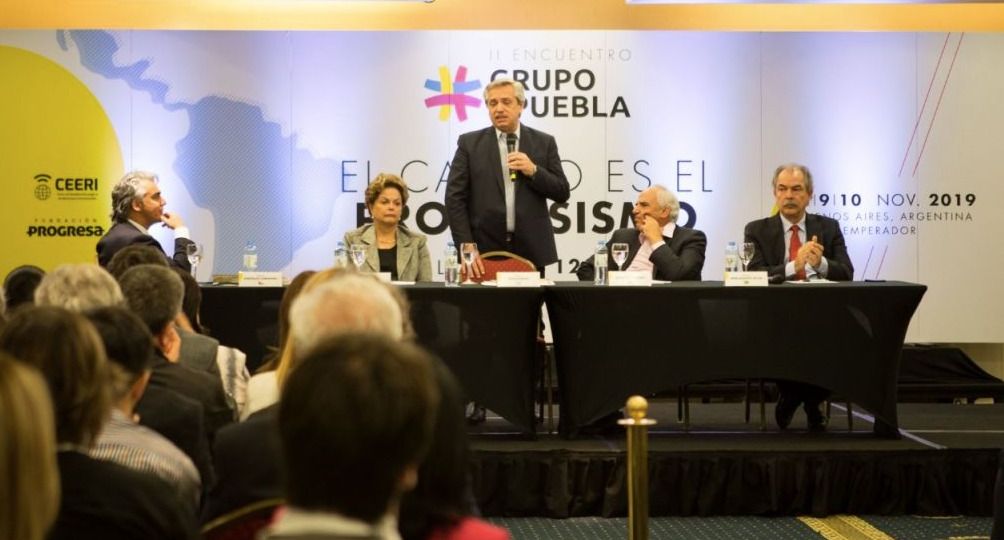 This morning, the participation of the current President of the Republic of Argentina, Alberto Fernández, in the commemoration of the first year of the Grupo de Puebla on Friday 10 July was confirmed. At the meeting, the President, along with his Minister of Education, Nicolás Trotta, will join the more than 40 progressive leaders who will meet again to discuss the "Progressive Agenda to overcome the crisis of the Covid-19 pandemic".
The Grupo de Puebla also confirms the attendance, as a guest, of Claudia Sheinbaum, Chief of the Government of Mexico City, who is the first woman elected for that position and is also a close collaborator of Mexican President Andrés Manuel López Obrador.
The Argentinian president, one of the founders of the Grupo de Puebla, will be joined by economists Mariana Mazzucato and José Antonio Ocampo as speakers. Among the invited observers will be David Adler, General Coordinator of the Progressive International, among others.
Alberto Fernandez, in six months of his administration, has addressed the renegotiation of his country's foreign debt, launched a plan of measures to help those affected by the Covid-19 and has appealed since the beginning of his administration to the unity of his country in order to face the challenges imposed by today's society, among other measures.
The Grupo de Puebla is an instance of progressive dialogue promoted by former presidents Dilma Rousseff, Luiz Inácio Lula da Silva, José Mujica, Ernesto Samper, Rafael Correa, Evo Morales, Fernando Lugo, Leonel Fernández, Martín Torrijos and José Luis Rodríguez Zapatero; former Chilean presidential candidate Marcos Enríquez-Ominami, former Brazilian Minister Aloizio Mercadante; former Colombian Minister Clara López Obregón; Bolivian Senator Adriana Salvatierra and Uruguayan Senator Mónica Xavier, among others.
The commemoration event of the Grupo de Puebla will be held at the following times:
11:00 a.m. El Salvador
12:00 p.m. Colombia, Ecuador, Mexico, Peru and Panama
1:00 p.m. Bolivia, Chile, Paraguay, and the Dominican Republic
2:00 p.m. Argentina, Brazil and Uruguay
7:00 p.m. Spain
The event can be followed through streaming on the social media sites of the Grupo de Puebla:
Twitter: @ProgresaLatam
Facebook: https://www.facebook.com/progresalatam/
Instagram: @progresalatamc